Boxing Cow Stress Reliever Ball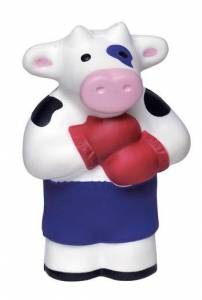 Item # zo-15059
Description
Information about the Boxing Cow Stress Reliever Balls
This fighter will box for a Winning promotion.
Promotional farm animal products that can be custom imprinted. Wholesale pricing in bulk order quantities for trade show giveaways. Boxing Cow Stress Ball Relievers are available "as shown" and include a personalized custom one location, one color imprint.
Popular Search Terms>> Boxing Cow Stress Ball , Boxing Cow Stress Balls , Boxing Cow Stress Reliever , Boxing Cow Stress Relievers

* Imprint Size - On Back 1"w x 0.50"h
* Product Size: 4.5" x 2.5"
* Call for Information on Multi-Color Imprinting or PMS Color Matching
* Standard Packaging: Bulk
Production Time:
* If you have a specific "Event Date" or "Delivery Date", Call Us to confirm Production and
Shipping Time. Need It Fast? CALL US, Rush Options MAY be available. Ships from CA.
* Allow (1-2) one to two working days after you submit your order to receive your "Art Proof".
* Normal production time is (4) four working days after we receive your "Art Proof" approval.
* Monitor Display Color varies. Product and Imprint sample color images and PMS #'s are
closest match and for reference only. Product Color can affect how Imprint colors show. Due
to the material, color and textures may vary giving inconsistant imprints or color matches.
* Promotional products are intended for use by adults and are not suitable for children
under the age of 12. Products are not intended for use by children or pets. Small parts,
they may present a choking hazard to children under 3 years of age.
Art Specifications:
(Email art to: art@shapedpens.com)
* Preferred formats: Vector Art as an .eps , .ai or .pdf file.
* Acceptable Logo or Art File Formats: Color separated Vector Art (resolution
independent) with no placed images and all text converted to outlines
compatible with PC platform.
* Files generally NOT acceptable are .jpg , .gif or .png files.
* For more information, See "Art Requirements or Contact Us.
* Our Art Department will "try" to work with any art received.
Boxing Cow Stress Ball: Stress Reliever
Purchase
Problems placing your order, Questions or to Order by phone